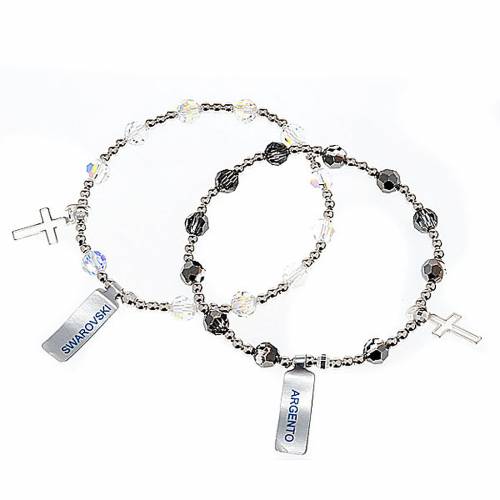 Catholic jewellery unites beauty, elegance, and faith into one perfect combination. Catholic jewellery has been traditionally built with a keen eye on detail, as well as aestheticism, with the best example of this coming from Italian Jewellery masters who have a keen eye for creating unique and enticing specimens.  Catholic jewellery is usually made of gold, silver, and/or hard stones bearing intricate designs and refined decorations.

Modern jewellery designers understand the need to design their jewellery with a slight modern appeal. Reputed jewellery brands like MATER have introduced designer jewels made out of silver 925.  They can feature rings, rosaries, pendants, bracelets and other items that invoke faith in whoever is wearing them. Contemporary jewellery is characterised by modern age refinement, elegance, solidity and is available in several variants like a light version, burnished or decorated. A common example will be the Ring-Rosary made of silver, which has decorated enamels to project the sense of faith and refinement. (Information Credit: holyart.co.uk)

Many individuals nowadays prefer classic lines which are linked to tradition rather than modern variants. These items can be perfect gifts for religious occasions or ceremonies like Confirmation or an individual's First Communion.  Angel shaped pendants can be a smart choice for a gift. For people desiring to wear jewellery pieces with greater definition of details, handcrafted Italian ornaments made from experienced craftsmen, such as Raffaello's angel-shaped pendant can be the perfect fit.
Silver rosaries:
Silver rosaries are another great jewellery option with a traditional look and feel.  There are several variants of silver rosaries, decorated with punchings and fitted with valuable hard stones can be found in the market. Hard stone options include amethyst, agate, Quartz, onyx black, coral, turquoise, river pearls, nacre or even  Swarovski crystals can be added to achieve an overall elegant look. 
Silver bracelets:
Silver bracelets are also an ideal gift to celebrate an important event in an individual's life.  Modern manufacturers make bracelets out of both silver and gold with varying designs.  Some are even decorated with gemstones or Swarovski crystals.  Most of them are hand-crafted by experienced craftsmen. For instance, a silver bracelet with modern and elegant decorations and small stylised angels can serve as a lifelong gift and a reminder of the Catholic faith.
Pendants:
Another piece of Catholic jewellery which has been popular for the ages is the Catholic pendants.   They have a unique charm and appeal and evoke a sense of emotion in whoever is adorning it.  Catholic pedants can be the perfect as a gift for women, who will complement the pendants with other accessories.
Catholic jewellery has always had a dedicated following, especially from the more orthodox Catholic groups in Europe. These days, there are many online sites that deal exclusively with Catholic-themed jewellery and other related items. A quick search on the internet will help the people find the best options worldwide. Most of these sites have provisions for international shipping.